Vaccine Certificate Download Through Whatsapp, Mobile Number & Aadhar Number: COVID 19 Vaccine Certificate can be downloaded online at the COWIN Website i.e cowin.gov.in. Also, the COVID 19 Certificate for Dose 1 and Dose 2 can be downloaded on UMANG, DigiLocker, and Aarogya Setu App. Covid 19 vaccine certificate is very important document that everyone must-have. People traveling to other countries must have to show the vaccination certificate, without which they will not be allowed to travel to the other countries. Different vaccines are taken like Covieshield, CoVaxin, Sputnik-v, Pizer etc. that's not doesn't matter for downloading Corona vaccine certificate. because those are approved by indian government and depends on vaccine stock, giving wisely.
Vaccine Certificate Download PDF Using Mobile Number, Aadhar Card, Whatsapp @ Cowin.gov.in
Corona/Covid Vaccine Certificate is Mandatory now a days to travel in domestic or Internal airlines, for booking hotels, Online darshan tickets in temples, Restaurants etc places. So every one should searching the ways to download covid certificate online easily using mobile number or aadhar card. People should follow the below steps and get certificate in minutes.
Covid 19 Vaccination Certificate Download Online
Various Coronavirus Vaccines are available at present. In India, mainly Covishield, Sputnik V, and Covaxin are mainly in use. People can get vaccinated with their preferable vaccine. After the registration, the people who are getting vaccinated will receive a message. By clicking on the link, it will be redirected to the COWIN portal. From the COWIN portal, the vaccine certificate can be downloaded.
COVID 19 Vaccine Certificate Download Information
| | |
| --- | --- |
| Information about | Covid-19 Vaccination Certificate |
| Authority | Government of India |
| Vaccination available in India | Sputnik, Covishield, Covaxin (all are now WHO recognized) |
| Price of Vaccination In India | Vaccine charges are different in private hospitals and the Government is offering the vaccination for free |
| From where you can download Vaccination Certificate | CoWin Portal |
| Portal Launch date | 16 January 2021 |
| COWIN Portal Link | cowin.gov.in |
Cowin COVID Vaccination Certificate – Process for Download Online
As the COVID is spreading severely in 3rd wave, the Government has issued guidelines to everyone to get vaccinated. People in health department has to be mainly vaccinated with both the 1st and 2nd doses. COVID Vaccination is very important to survive amid the danger situation.
More than 180 million people got vaccinated in India as per the Government reports. Still the vaccination process is going on to fight with the deadly disease.
COVID Vaccination will be done twice. After completing the dose 1, vaccination certificate link will be sent to the mobile number of the vaccinated person. By clicking on the link, they can download the vaccination certificate on their mobile.
Upon the successful 2nd dose vaccination, the notification will be shown that "fully vaccinated".
Covid-19 Vaccination certificate is very important for people who are travelling to abroad.
Also, the senior citizen, health department people, and the front line working people must be vaccinated quickly.
How you download Cowin Covid-19 Vaccination certificate?
People who are getting vaccinated with any vaccine Covishield/ Covaxin or Sputnik need to get registered with the COWIN portal by providing the Aadhar Card number and valid mobile number, pin code.
After the completion of 1st dose and 2nd dose vaccination, vaccinated people can download the COVID Vaccination certificate. The vaccination certificate can be downloaded on Digi Locker, Umang App, WhatsApp, Facebook, Phone number, CoWin etc. Check the following procedure to download COVID vaccine certificate.
How to Download Covid-19 Vaccination Certificate from Cowin website?
Initially, register with the CoWin Website with your valid mobile number, and aadhar card details.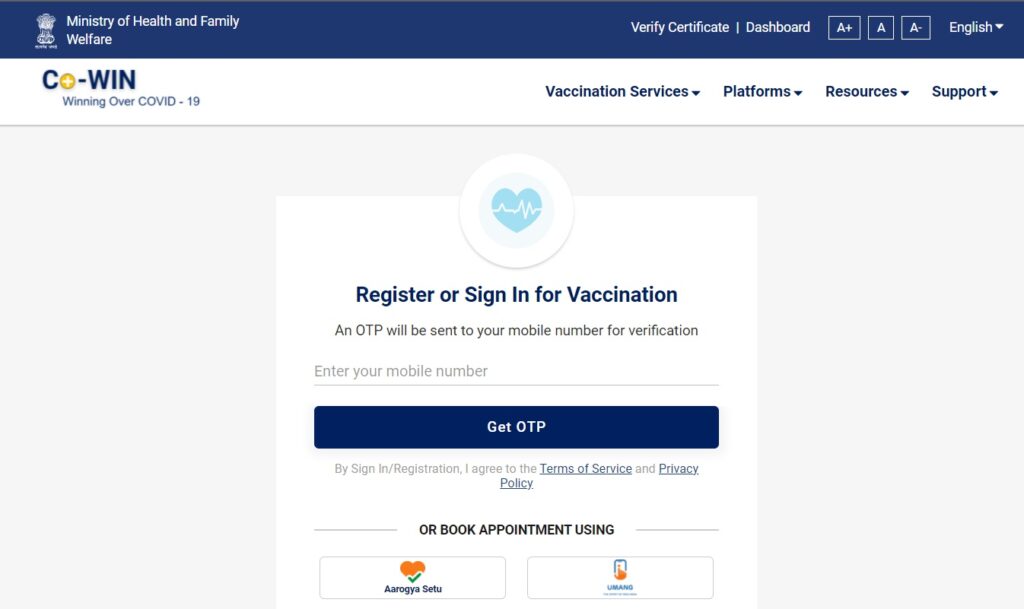 After that enroll for the vaccination by logging into the COWIN portal. After the successful vaccination, you will get a SMS on the registered mobile number.
In SMS, you will receive a link.
Click on the link and Log In to your Cowin portal dashboard.
Download and Save your Vaccination Certificate.
How to Download Vaccine Certificate in Whatsapp?
To Download the Covid Vaccination Certificate, you are required to save the number in your Mobile Phone, Please Save this Contact Number +919013151515 .
Go to Whatsapp and Send HI to this number.
Automatically Chatbot will send some options so that Choose Download Vaccine Certification and Click on that.
Type 2 number in the chat box for certificate.
it will send a otp for verification so that you should enter in the chat.
After successful verification, your Covid Vaccine Certificate PDF will be displayed, so that you can be downloaded.
How to Download Covid-19 Vaccination Certificate from the Aarogya Setu app?
Download Aarogya Setu App from Google Play Store/App Store on your phone.
Log in with your mobile number and click on the Cowin tab at the top.
Enter your 13 digit beneficiary reference ID after clicking the Vaccination certificate option
Click the download button to get the vaccination certificate
How to download Cowin Vaccination Certificate from Digilocker App
The Digilocker app is the digital app, which allows the users to store the digital documents like Aadhar Card, driving licence, etc. The app also stores the information related to various government departments. Now, this app is also allowing to download the COVID certificate.
Install the DigiLocker App on your mobile.
Fill up all the required details such as name, gender, date of birth, security PIN, phone number, Aadhar number, etc.
Now after registering go to the Central Government tab and click on Ministry of Family Health and Welfare (MoHFW).
You will find an option "Vaccine Certified".
Click on the Vaccine Certificate link and enter your 13-digit Reference ID to download the Covid Vaccine Certificate.
How to download Corona Vaccine Certificate From Umang App
Download the Umang App from Google Play Store/App Store. Sign up with the mobile number.
On the app go to "What's New" section.
In the "What's New" section, you will find Cowin Tab.
Click on Cowin and press the Download vaccination certificate option.
Now enter your mobile number and also enter the OTP in the provided columns.
Confirm beneficiary name and download the Covid vaccination certificate from there.