Bluestacks Free Fire Max Smart Controls Not working: Many People are facing Free Fire Max Smart Controls Not working After OB37 Update? Then You can Follow the below article to slove the issue.
Bluestacks Free Fire Max Smart Controls Not working After OB37 Update
BlueStacks is an American technology company known for the BlueStacks App Player and other cloud-based cross-platform products. The BlueStacks App Player allows Android applications to run on computers running Microsoft Windows or macOS. The company was founded in 2009 by Jay Vaishnav, Suman Saraf, and Rosen Sharma.
Why are FREE FIRE MAX Smart controls not working?
Key controls for a game may not work as expected on BlueStacks 5 for a short period of time after a game releases an update.  Games such as Free Fire, Call Of Duty, Battlegrounds Mobile India, Robot Showdown that are updated frequently may cause smart controls provided by BlueStacks to stop working.  To resolve this, you can switch to default controls in the event that an update is rolled out and smart controls are not working as expected. 
How to Slove Free Fire Max Smart Controls Not working After Update?
The steps below will guide you on how to switch to a default and Smart control scheme:
Step 1: Launch the game from your BlueStacks 5 home screen, as shown below.
Step 2: After the game launches, click on the "Game controls" icon on the side-toolbar, as shown below.
Step 3: From the dropdown menu, click on the arrow under "Scheme" to view the list of available control schemes.
Step 4: From the list, select "Standard". This will set your game controls to default and resolve the controls-related issues.
Step 5: After 1 or 2 Days, You can Update the Controls by clicking on Update Controls button.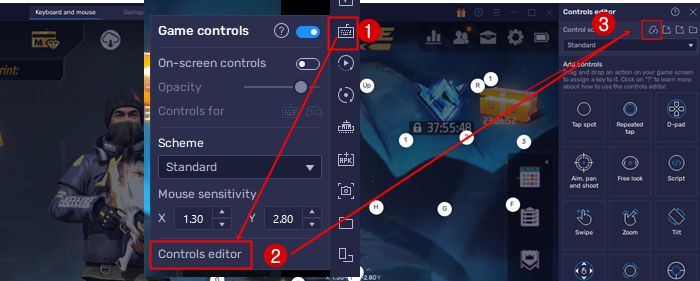 Step 6: Then Your Smart Controls are start Working.
Features of Bluestacks 5 – Prepare For Power-Packed Gaming
Less RAM Usage
Uses upto 50% less RAM than other platforms for a faster and smoother gaming experience.
Lightning Fast
Upto 50% faster setup than ever before. Be game ready in no time.
App Performance
BlueStacks 5 consumes significantly less CPU while maintaining stable FPS over long gaming sessions.
Efficient Multitasking
Play multiple games simultaneously. Enable Eco Mode to reduce CPU usage by 87% and GPU usage by 97%.
Largest Game Library
Discover more games and unique titles from over 2M+ apps.
Built for Stability
Bring on those marathon gaming sessions.
Consistent FPS
Run your favorite games at the FPS you want. Say goodbye to FPS dips.
100% Gaming. 100% Privacy.
The safest gaming platform. Trusted by over 500 million gamers worldwide.