Get Any Character FREE from LINK System: If you could get characters for free who would you choose first? Alok, K, Clu, Wukong, Skyler, Chrono or other. The "LINK" system will be available in our new patch. You can LINK with all the existing characters and get free characters from the LINK system for FREE. The features is free for all on March 23rd, 2022, Let's check out how it works.
How to Get Any Character FREE from LINK System (Alok, Chrono, K, Wukong, Skyler, Clu)
How to Obtain a Character in "LINK" System
Step 1: In the lobby, tab "character" in which you will find the the entrance to the "LINK" system.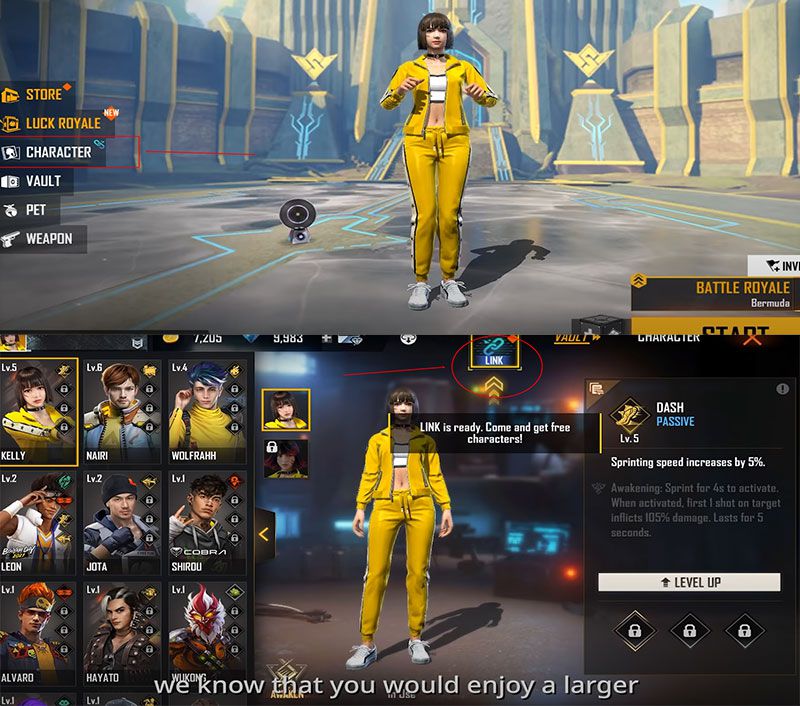 Step 2: You can select any character you want to LINK with like Alok, Chrono, K, Wukong, Skyler, Clu etc. Once the LINK process is complete, you will obtain this character.
Step 3: Once a character is selected, we can complete the LINK process by playing matches are using gold to speed up. There are daily link progress limit for both methods. The maximum LINK progress obtained from playing matches is 1500 points per day While exchanging progress with the gold is limited to 500 points per day.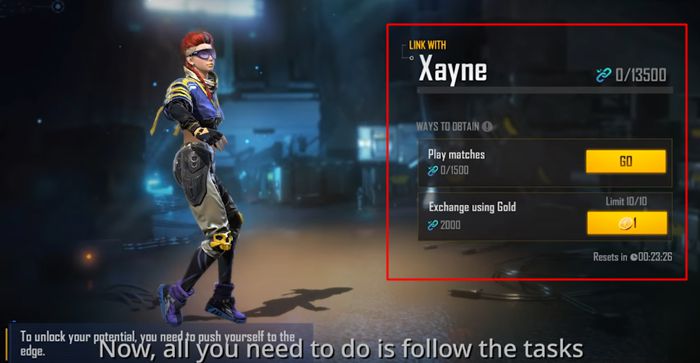 Step 4: Accumulate 13500 points to complete the LINK progress. Once the progress is complete, you can get selected character for free.
Step 5: Show off your new character with friends and invite them to use LINK too.
How to switch a linked Character
You can choose a character, Switch between characters and view LINK progress. Only one character can be linked at the same time. For example, say you want to switch your LINK from Dasha to wolfrahh. Once confirmed, Dasha's progress will be saved and cannot be changed for 1 day. If you confirm to relink with wolflrahh, you will obtain him once the LINK Progress is complete! Prepare for a new experiene in the LINK system.
Get free Characters with LINK!
"As Characters and their skills have become a fundamental part of our gameplay, we've come to realize the importance of making Characters more accessible. Now, all existing Characters are available through LINK for free! Say goodbye to paying for Characters!"
• Players may only link with one Character at a time.
• There's a limit to the LINK points players get per day.
• Players may give their LINK progress an extra boost with coins (limited per day).
• All Characters prior to this patch update will be included in the LINK system.
• Price cut in Character lvl-ups and skill slots unlockings:
• Reduced Character Fragments needed for leveling up: (See in 1st form below)
• Reduced the costs for unlocking skill slots: (See in 2nd form below)
Character Fragments Needed Before & After
Leveling Up
Current
After Patch
Level 2>3
500
400
Level 3>4
1,500
1,000
Level 4>5
2,500
2,000
Level 5>6
5,000
4,000
Costs for Unlocking Skill Slots Before & After
Unlocking skill slots
Current
After Patch
Slot 1
50 Diamonds/2,000 Coins
40 Diamonds/2000 Coins
Slot 2
75 Diamonds/5,000 Coins
75 Diamonds/3750 Coins
Slot 3
125 Diamonds/10,000 Coins
125 Diamonds/6250 Coins