King Legacy Redeem Codes September 2023 : Roblox King Legacy online game has worldwide fame now and also has become one of the most demanding games so far. You may find similarities with the Manga/ anime one piece. This game presents you the game play where you can sail in the vast ocean and explore many islands. These islands are covered with enemies, pirates. So you will get a scenario which you might find quite real.  This game does not come up with new codes often. So you must not miss any opportunity to access any code. Also we have other codes for another different online Roblox games as well here. You can check out your favorite game's redeem codes.
Also Get : Free Google Play Redeem Codes
King Legacy Codes Redeem Today (September 2023) – Get Free Beli, Gems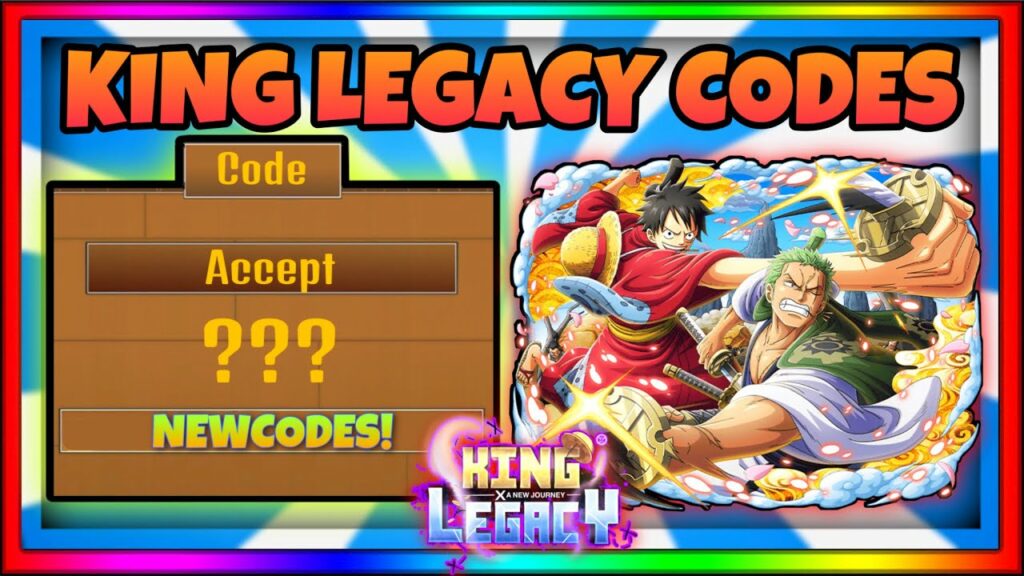 What are King Legacy Redeem Codes?
Developers of this game very rarely bring some amazingly exciting redeem codes. Any online game releases these sort of redeem codes. Developers release these codes for the players and also for the purpose of spreading popularity of this game.
Through these codes players get much free stuff like stat reset, gems, beli and many others rewards as well which can get you skip the level of the game or design characters of the game.
How can players redeem King Legacy Codes?
Now redeeming King Legacy Codes is very unchallenging. It is one of the games on Roblox, redeem codes of which are way too uncomplicated to players. We are here to serve you the specific process of King Legacy codes redemption. Follow the step by step process below:
Open the Roblox account using previously existing ID and password.
Then search the game from search bar and run the game to launch it.
Now click on the settings cog option.
Press on enter code button. And paste the copied redeem code here.
Now click on the redeem option for redemption of these codes. Now enjoy your rewards and decorate your game characters.
If you have visited our page once, you don't have to go to any other website in search of King Legacy redeem codes. Both new and expired codes are listed here, so that you can easily redeem it and receive the freebies without any hazard. Here watch the list below and redeem carefully as each code can be used only once.
Active king Legacy Codes (Working)
3xilescha1r – 15 gems
1MLikes – ten gems
2BVisits – 30 minutes of two times EXP and ten gems
Update4.6YAY – 20 gems
lagshallnotpass – 15 gems (NEW)
950KLIKES – Reset Stats
2023 – 5 Gems
UPDATE4.5.3 – 25 Gems (NEW)
UPDATE4.0.2 – five gems
900KLIKES – stat reset
UPDATE4 – five gems
650KLIKES – Free Reward/Stat Reset
1MFAV – 5 Gems
THXFOR1BVISIT – 3 Gems
Peodiz – 1,00,000 Beli
DinoxLive – 100,000 Beli
THXFOR1BVISIT – 3 gems
1MFAV – 5 gems
Update3_17 – 3 Gems
Update3_16 – 3 Gems
Update3_15 – 3 Gems
Update3 – 3 Gems
UPDATE3.5 – 5 Gems
Expired king Legacy Codes:
Update2_5 – 3 Gems
500KLIKES – Stat Reset
300KLIKES – Stat Reset
DINOXLIVE – 100,000 Beli
400KLIKES – Stat Reset
Update2_16 – 5 Gems
Update2_17 – 3 Gems
200KFAV – 100,000 Beli
100KFAV – 100,000 Beli
80MVISITS – 100,000 Beli
NewDragon – 1 Gem
Samurai – 3 Gems
Spino – 2 Gems
Dough – 2 Gems
Shadow – 1 Gem
String – 1 Gem
Snow – 1 Gem
Also, don't forget to check more popular RPG Roblox games redeem codes generators like Blox fruit, Shindo Life, Pet Simulator X and All Roblox promo codes.
How can players earn extra King Legacy Codes?
Whenever King Legacy online game releases any new set of codes we inform you immediately through our page. But if you want more codes then you can simply check out the official discord server. There you will get amazing new extra redeem codes. Or else you can visit all the official social media handles like Instagram, Twitter etc. There many a time we get to see some unique codes are uploaded that are not being seen anywhere else. So keep an eye on those sites as well to get the codes before everyone else.
If you have any query feel free to drop it below and thanks for staying with us till last.