EENADU Annadata Magazine December 2023 PDF: Annadata is an Indian farmers and agriculture magazine published in Telugu language monthly. As of 2019, It is the highest circulated magazine in India with the circulation of 345,000.
EENADU Annadata Magazine December 2023 PDF (అన్నదాత) @ Eenadu.net
Annadata, a unique magazine for farmers set up in 1969. Annadata's genesis lies in understanding that farmers need to know about farming in their own languages. Annadata has become one of the foremost magazines for farmers.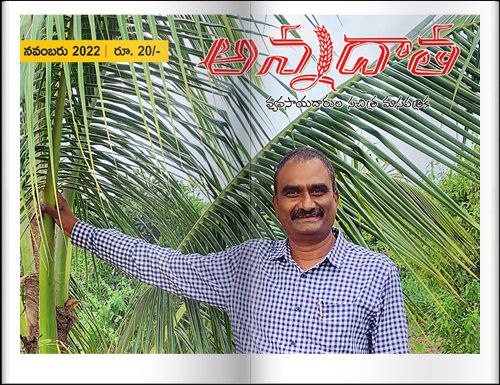 Annadata – an Agricaltural Monthly Annanda is an agricultural monthly – published in Telugu, the local language of Andhra Pradesh (india). Its circulation of 185,000, mainly in Andhra Pradesh, makes it the largest agricultural magazine in India. The sheer size of its readership establishes it as a potent and demand driven force in agricultural extension.
The journal is sold at INR 9/ copy. Moreover an annual subscription entitles readers to an agricultural diary with cropping dates. Of the readers the majority (175,000) are subscribers. Eenadu has three editions for the three major regions of the state. The majority of its income comes from advertising. Readership could increase -particularly in the more remote areas, but this would require promotional activities. For its income, therefore, the magazine is more dependent on advertising than subscriptions or sales.
Annadata is part of the Eenadu group. Eenadu publishes the largest Telugu daily, with a circulation of 950,000 (Sundays 1,100,000). Eenadu has different editions for each of the 22 districts in the stale. These also carry regular features on agriculrure (a weekly supplement and a daily column). The Eenadu group has also a television station, which broadcasts an agricultural programme in the early moming hours – at a time convenient to farmers.
Download EENADU Annadata Magazine December 2023 PDF
The monthly covers well-illustrated articles on the entire range of farming practices – horticulture, annual crops, animal husbandry and shrimp farming. The editorial policy is that articles should be practical, timely and explicitly non-academic. They are submitted by a large number of correspondents (incl. researchers) and edited in the practical style that the journal claims. Usually the contributions exceed that which is published with a margin of 30-40%. There is substantial reader feedback which helps to improve the relevance of the magazine.
Similar journals exist elsewhere – but the circulation is smallet. In Maharastra a commercial journal has been set up as well. In Punjab there is a government edited journal but its circulation is about 2000. As a source of in formation the Annadata journal is unique in Andra Pradesh and its model is well worth copying elsewhere.
About EENADU Annadata
| | | | | |
| --- | --- | --- | --- | --- |
| S.No | Name of the Magazine | Language | contents | Periodicity |
| 1 | Annadata | Telugu | Agriculture | Monthly |