How to Earn Free Fire BTS Crystal Free: The popular virtual battle royal game Garena Free Fire has taken the internet by storm with its latest tweet. The developer of the game has teased its fans of a possible collaboration with the South Korean boy band, BTS. Taking the gamers' excitement a notch higher, the developers dropped hints of the collaboration on the game's North American and Brazilian social media handles.
Get BTS Outfits - All 7 of them: Play to get 1 BTS crystal for free ! user to draw an exclusive costume at BTS bundle up!
How to Earn Free Fire BTS Crystal Free to Redeem 7 Costume Bundles
However, Garena has finally confirmed the collaboration a few hours back with a post in social media. They have mentioned, "We are happy to announce our global collaboration with 21st-century pop icons, BTS! The collaboration will see one of the world's most-streamed artists worldwide enter the world of Free Fire for a never-before-seen event later in March. BTS has established itself as one of the world's most well-loved groups that have won the hearts and minds of hundreds of millions worldwide. Fans and players of Free Fire can look forward to a series of collaborative events and activities in the weeks to follow, both in the game and beyond."
| | |
| --- | --- |
| Event Name | Free Fire × BTS Global collaboration |
| Event Starts From | 25th March, 2022 |
| Conclude on | 23rd April, 2022 |
| Rewards | 7 Costume Bundles |
Free Fire has already made announcements of its second collab of the year a few weeks back. They are collaborating with a popular music band, BTS from 25th March. Throughout the collaboration, there will be so many events with amazing rewards up for grabs. Here, you will get to know all the items that will be available throughout the collaboration. A few items are Pet Skins, Loot Box, Backpack, and many others. So, let's know more about the Free Fire BTS Collab items in detail.
Developers have also revealed seven character bundles, each designed by a specific member of the Bangtan Boys, which are given here:
Deceptive Fearless Bundle: Designed by Jeon Jung-kook (Jungkook)
Tricky Jolly Bundle: Designed by Kim Tae-hyung (V)
Golden Undaunted Bundle: Designed by Park Ji-min (Jimin)
True Charm Bundle: Designed by Jung Ho-seok (J-Hope)
Soldier Nightmare Bundle: Designed by Min Yoon-gi (Suga)
Wave Breezer Bundle: Designed by Kim Nam-joon (RM)
Blush Flush Bundle: Based on Kim Seok-jin (Jin)
Free Fire BTS Crystal Release Event Calendar
During its stay, the BTS collab will introduce a plethora of events and rewards for users. The list of all events with release and end dates as per the collaboration calendar is given as follows:
Free Fire BTS crystal event will be start from 25th March, 2022 and conclude on 16th April, 2022. This event players need to collect NEON stick Tokens from BR Full map Game and CS Ranked and Lone Wolf match.
Gen FF: From 25 March to 16 April
BTS Exchange – Use BTS Jewel to Redeem Costume: From 25 March to 16 April
Neon Stick Exchange – 1: From 25 March to 16 April
Neon Stick Exchange – 2: From 2 April to 16 April
Aftermatch Drop in Clash Squad and Lone Wolf Mode: From 25 March to 16 April
Map Drop in Battle Royale: From 25 March to 16 April
Four Double Neon Stick Token Drops: 9 April
Warm Up Mission: From 28 March to 3 April
Play to get Tricky Jolly Pet Skin: From 1 April to 10 April
BTS Week Mission: From 4 April to 15 April
Redeem Golden Undaunted Sports Car: From 4 April to 15 April
Booyah Challenge: From 8 April to 15 April
Log in for the free Breezer Skyboard: 9 April
Weekend Playtime: From 9 April to 10 April
Pop Sway: From 2 April to 15 April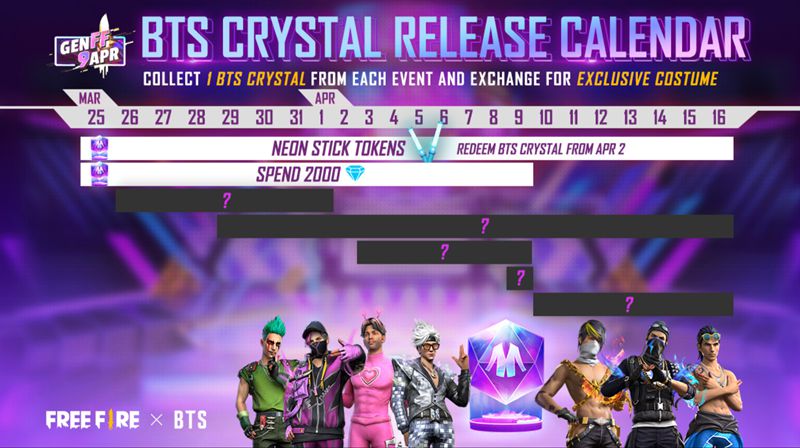 As we told earlier that the BTS collaboration will be a little bit longer. It will be available for three weeks. So, the event is going to start on 25th March and conclude around 16th April. Gamers always keep their one eye on the upcoming items. It is also the same for the rewards. Here, we will talk about a few other rewards which will be available through the events. However, you can also obtain these items from the stores.
How to Earn BTS Crystal and Redeem BTS costume bundles
Between 25th March, 2022 and 15th April, 2022 participate in various activities to obtain BTS crystals. Detailed schedule can be found on the "Get BTS outfits" page. use BTS crystals to exchange for collaboration bundles in "BTS outfits".
Event Period: 2022-03-25 to 2022-04-23
Step 1: Collect NEON stick Tokens from BR Full map Game and CS Ranked and Lone Wolf match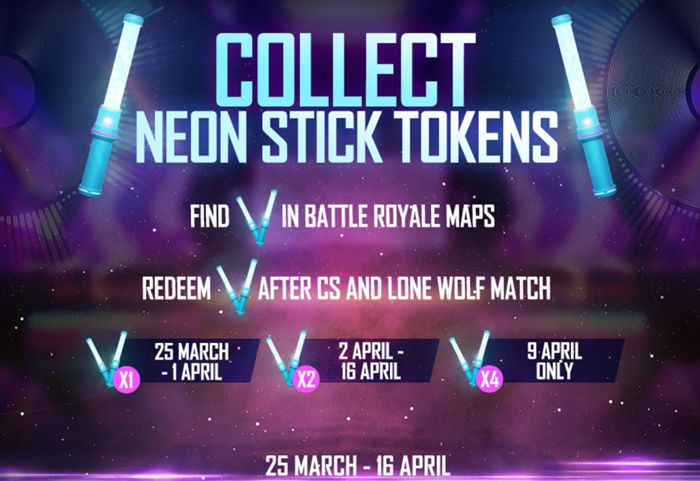 Step 2: Redeem exclusive BTS costume bundles with BTS Crystals
Step 3: A BTS costume bundle is guaranteed with each BTS Crystal spent
Step 4: Click "how to obtain" below the spin button to know where to get additional BTS Crystals
Step 5: You can obtain BTS crystals until 16th Apr 2022, 23:59:59
Step 6: Collect all 7 costumes to show your love for BTS!