JioBook Laptop Buy Online: Reliance Retail launches JioBook, India's first learning book. This is the second launched JioBook since October 2022. With the tagline, "Your ultimate learning partner", this laptop is focused on serving all age groups.
The launch of the indigenous laptop JioBook is a significant move by Reliance Retail to dominate the laptop market. The significant move by the company is to make India, "2G Mukt".
Also Read : Google Play Redeem Code Free | Free Fire Rewards
JioBook Laptop Buy Online Rs 16499 – Pre Order Booking @ Amazon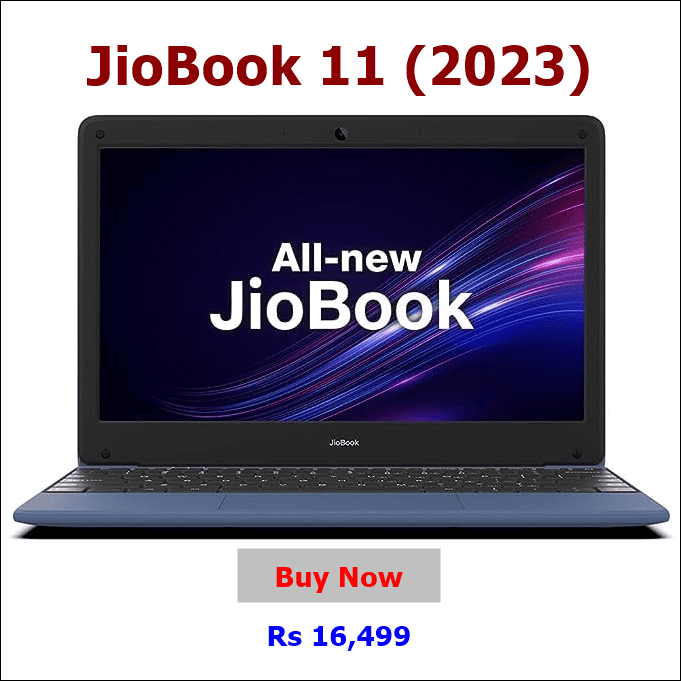 Jio is already an established brand name in the Indian market -The JioBook will be widely available for purchase after the post Amazon teaser featuring some informative descriptions about the JioBook. It is expected to retain the same features as the first JioBook but is more impactful than the former launched version.
According to the Reliance spokesperson, it is here to revolutionise the way people learn, catering to new opportunities for personal growth and skill development.
JioBook Specifications
JioBook Laptop Booking Online, Price & Launch Date
| | |
| --- | --- |
| Display Size | 11.60 inch |
| Display Resolution | 768 X 1366 pixels |
| Operating System | JioOS |
| Storage | 64GB Internal Storage |
| Weight | 0.99 kg |
| Colour | Blue |
| Purchase | Amazon, Reliance Retail |
| Price | Rs 16499 |
Also Check : Free Fire Advance Server Download
What makes it Special & Unique?
The JioBook(2023) is a revolutionary product in itself, not only its price is affordable but also its out-of-the-box design makes it special. This laptop, unlike its predecessor, is light and ultra-compact. You can carry this laptop with ease.
Body: JioBook weighs under a kilo at 990 grams with a matte finish. However, there is a single Blue colour option. It has eight hours plus of strong battery backup that is a backup for your on-the-go lifestyle. It comes with a plastic body.
Processor: It comes with a powerful octa-core processor. The capacity of the processor makes it perfect for handling high-definition video streaming, multi-tasking, and even gaming. It will be able to run various software applications with ease.
It will support 4G connectivity, and it can connect to the network without any dongle or Wi-Fi. The laptop comes with dual-band with 75+ keyboard shortcuts, multi-tasking screens and access to educational content.
Last year, the first JioBook was powered by a Qualcomm Snapdragon 665 SoC paired, 2 GB RAM, and 32 GB of eMMC Storage.
Also Read: Jio Phone NEXT Launched in India
JioBook 11 (2023) Features & Specifications
The JioBook (2023) runs on the Android-based JioOS operating system, and the display feature is an 11.6-inch HD screen(768X1,366 pixels). It runs on an octa-core MediaTek MT8788 processor paired with 64GB inbuilt storage and 4GB LPDDR4 RAM.
The storage available can be expandable up to 256GB via a microSD card. There is no learning curve, it's built like a PC. Along with a wider LED display, it comes with an infinity keyboard and a fairly large trackpad.
We already talked about its processor capacity, moreover, it also comes with a 2MP webcam for video calls, streaming and smooth operation of productivity apps. It has connectivity options including Wi-Fi, Bluetooth 5, an HDMI mini port and a 3.5mm headphone jack.
JioOS improves the learning and entertainment experience including JioTV, loaded with educational content in the form of videos, JioCloud Gaming, and a JioBIAN-ready Linux-based coding environment which supports languages such as Python, Java, C/C++, and Pearl.
JioBook comes with dual stereo speakers. The stereo speakers help you to work outside due to the excellent sound quality. The best part of this laptop is the anti-glare screen. In short, it ensures a seamless and efficient workflow.
This JioBook comes with a lot of freebies like free one-year Digiboxx cloud storage, Jiopages as a default web browser, and a one-year Quick Heal antivirus subscription. In terms of storage, Digiboxx offers 100GB of cloud storage on Digital Cloud Storage Partner of India.
What is the Technical Speciality?
Dual-Band Wi-Fi Connectivity- JioBook ensures you a fast and uninterrupted network.
PC- like Shortcuts– It has features similar to PC. You can boost your productivity using shortcut keys.
Full-native app support-It comes with a task manager, terminal, calculator and many more apps to build a seamless experience.
Wireless scanning and printing- It supports major printers and scanners.
Multiple ports and seamless connectivity– It supports your existing accessory usage like sim, headphones etc. with your new JioBook.
Where can you buy JioBook Online?
JioBook(2023) price in India and availability has been set at Rs.16,499. The laptop is available for pre-order through Amazon, Reliance Digital's e-commerce website, and all leading retail stores. It will go on sale starting August 5, 2023.
Customers can purchase JioBook from Reliance Digital's online and offline stores.
BUY NOW (Amazon) – Pre Oder Open Now & This item Sale starts on August 5, 2023.
About this item
Always-on internet with 4G LTE and Dual band Wi-Fi (2.4GHz and 5.0 GHz)
Processor: Mediatek MT 8788 Octa Core/2.0 GHz/ ARM V8-A 64 bit / Memory: 4GB LPDDR4 RAM, Storage: 64 GB, Expandable upto 256GB via SD card. Octa-Core performance empowers you to multi-task between applications & do more
990gms light & ultra compact makes it easy to carry anywhere
Built like a PC with JioOS having 75+ shortcuts, native apps, extended display, touchpad gestures etc.
8+ hrs of strong battery backup for your on-the-go lifestyle
Anti-glare HD Display & Stereo Speakers helps you to work outdoors
Infinity Keyboard & large touchpad ensures convenient, seamless & efficient workflow
SIM inside JioBook can be activated by – 1. Home activation : Register for new SIM card on Jio website or MyJio mobile app. Jio executive would contact you for scheduling Home visit for activation. 2. SIM activation at Jio Store : JioBook SIM can also be activated at various Jio Stores around you. Just carry your JioBook at nearest Jio Store for activation.
1 Year carry-in warranty – 12 months warranty from the date of purchase of JioBook from authorised sales point. Warranty period and coverage for accessories & battery is different. Please connect with Jio service centre to get detailed information on warranty inclusions & exclusions.