Next Weapon Royale in Free Fire July 2022: Weapon skins are pretty popular among Free Fire players and are highly sought-after. They improve the aesthetic appeal of guns while also increasing their statistics.
Garena periodically incorporates new skins into the battle royale title, and players can attain them through various methods. One of the most widely used means is Weapon Royale.
Next Weapon Royale in Free Fire July 2022 (Upcoming New FF Weapon Royale Skin)
Around 1st July 2022, a new Weapon Royale in free fire to be added. Here are further details about it.
Weapon Royale OB 34 Update: Flaring Blonica G36 
Attributes
Range +
Magazine –
Accuracy ++
Each spin in this event costs the users a total of 40 diamonds, while a collection of 10+1 spins is priced at 400 diamonds.
Users must note that they are not guaranteed to get the exclusive weapon skin in a particular number of spins. However, their luck increases with every subsequent spin.
Upcoming Weapon Royale Skin in Free Fire
These steps can be followed by players to access the New Weapon Royale in Free Fire:
Step 1: Gamers first have to start Free Fire on their mobile devices. Once the game opens up, they must tap on the 'Luck Royale' icon on the left side of the main lobby.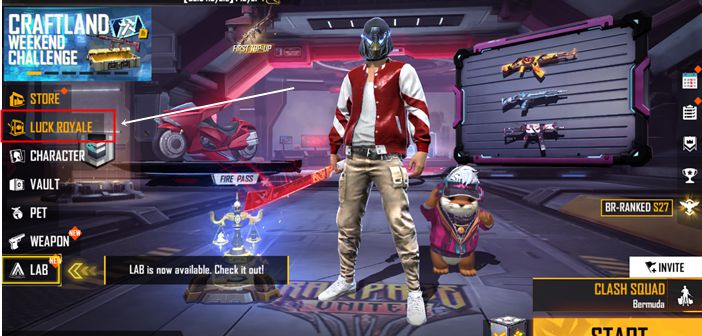 Step 2: Users should head over to the 'Weapon Royale' section as the next step.
Step 3: Players can proceed to spin for an opportunity to get the weapon skin in Free Fire.
Best Weapon Royale skins in Free Fire MAX as of June 2022
1) Famas – T.R.A.P.
Damage: +
Range: ++
Reload: –
2) SVD – Swordsman Legends
Damage: +
Magazine: ++
Accuracy: –
3) Duke Swallowtail AWM
Magazine: +
Rate of Fire: ++
Reload: –
4) M4A1 – Scorching Sands (AKA The Earth M4A1)
Damage: +
Rate of Fire: ++
Magazine: –
5) M82B – Vampire Malevolence
Reload Speed: +
Armor Penetration: ++
Movement Speed: –