Grand Piece Online Codes : You can play Grand Piece Online and start working toward your ideal build immediately! Explore the sea to find secret places and take on bosses that are difficult to defeat. If you explore far enough, you can find valuables and exotic fruits that will give you more strength. This two-team Roblox game was heavily influenced by the well-known anime One Piece.
Grand Piece Online Codes (December 2023 Free) GPO Rerolls, Resets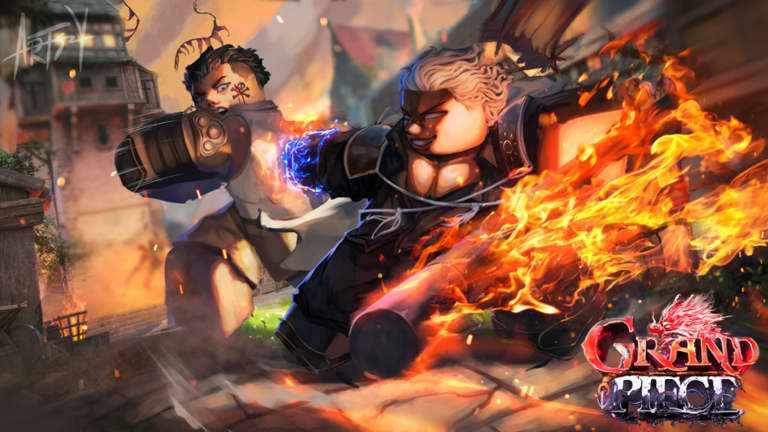 Players must use all of their efforts to the fullest extent possible in order to outperform their opponents. In a highly competitive game, getting a raise to increase your character's stats is always good. If you enter an expired code, all subsequent attempts to redeem codes will result in a "busy" message. To try another game, you must exit and re-enter the current one.
Roblox Grand Piece Online Codes Redeem List
Active Grand Piece Online Redeem Codes List (100% Working December 2023)
50ROLLS – Redeem code for Free Rolls
FREE24HR2XDROP3—Redeem Code for x2 Drop Boost (New)
FREE24HR2XDROP2—Redeem Code for x2 Drop Boost
FREE24HR2XDROP—Redeem Code for x2 Drop Boost
770KLIKES18XRACEREROLLS— Redeem Code for 18 Race Rerolls
Expired Grand Piece Online Codes:
phogiving—Redeem Code for 24 hour Devil Fruit Notifier
640KLIKES23XRACEREROLL—Redeem Code for 23 race rerolls
V2640KLIKES23XRACEREROLL—Redeem Code for 23 race rerolls
SUB2LAMA – Redeem Code for 2x Drop Rate
RichestPlug – Redeem Code for DF Reset
SUB2VZNITY – Redeem Code for DF Reset
SUB2SCIGPO – Redeem Code for DF Reset
SUB2MUSCLEMUFFIN – Redeem Code for SP Reset
GPOZachMemes – Redeem Code for SP Reset
2Y8ZTHEGOAT – Redeem Code for SP Reset
If you want to know about the freebies, you can see them with the Grand Piece Online codes Redeem list. If you want it, you can see the instructions on how to use codes in Grand Piece Online under the codes list. We have got every detail of Roblox for you. Check out the Roblox Free Items page if your avatar requires new hair, clothes, or anything else. For freebies in other games and experiences, visit the Kaizen Codes, Anime Adventures Codes, and Project Slayers Codes pages.
Frequently asked questions(FAQs):
Question: What is Grand Piece Online?
Answer: One Piece has a significant impact on Grand Piece Online. You have to test yourself in it by exploring the ocean and discovering hidden areas, facing off against challenging bosses, and keeping an eye out for the other players on the opposing team who are determined to defeat you! It is advisable for new players to join a crew rather than face the opponents and the seas by themselves. Instead, more seasoned players can try their hand at leading their own crew!
Question: What is the Grand Piece Online code usage process?
Answer: Go to the menu or click on M on the keyboard to redeem a code in Grand Piece Online. When you select the settings window, a code area will appear at the base of the menu. To receive the prize, copy the codes from the list, paste them into the text field, and press Enter on your keyboard.
Question: How could I get more Grand Piece codes?
Answer: Make sure to join the Grand Piece Online Discord if you want to search for codes. Since that is the game's official server, any updates should be made there.
Question: Grand Piece Online code names?
Answer: Grand Piece Online codes are those the game's creator, Grand Quest Games, has made available. You can use these codes to get in-game benefits like stat resets, Dragon fruit resets, race rerolls, and more. Codes can be used to significantly increase your strength and stats, enabling you to be the eventual raider.
Question: Why are my GPO codes not functioning?
Answer: Sometimes the game's developers will abruptly end a code for GPO, leaving players perplexed as to why it still appears on our list of active codes. Whether you entered an expired code is indicated by the game. Consequently, if it doesn't say that, there is another explanation. To prevent a spelling error, make sure to copy the code and paste it rather than typing it in by hand.
Try again a few hours later if a code that was added that day and that you are seeing does not work. Before the codes are incorporated into the game, the makers often release them.
Question: Why does typing in my Grand Piece Online result in the message "BUSY"?
Answer: When entering your Grand Piece Online code, if you see the message BUSY, the code has expired. When you use an expired code followed by another expired one, busy appears. All codes are no longer valid if they all display busy. You must quit the game, reload it, and test the remaining codes to be sure.
Question: What are the Grand Piece Online Redeeming Instructions?
Answer: You must first start Grand Piece Online to use the codes mentioned earlier. Click on M on the keypad while playing the game to access the main menu. In the menu, select the red Gear/Settings button next. A text box can be found under the settings option. To redeem your reward, type the code into the text field just as it is seen in the list and click Enter on the keypad.
Question: Where can I get Grand Piece freebies online?
Answer: With our list of Grand Piece Online promo codes, you can find freebies if you're looking for them. Below the list of codes is information on how to use codes in Grand Piece Online if you need it.